This chocolate hazelnut gelato, known as gianduia in Italian, is chocolate ice cream and hazelnuts. It's a classic Italian gelato and tastes like Nutella.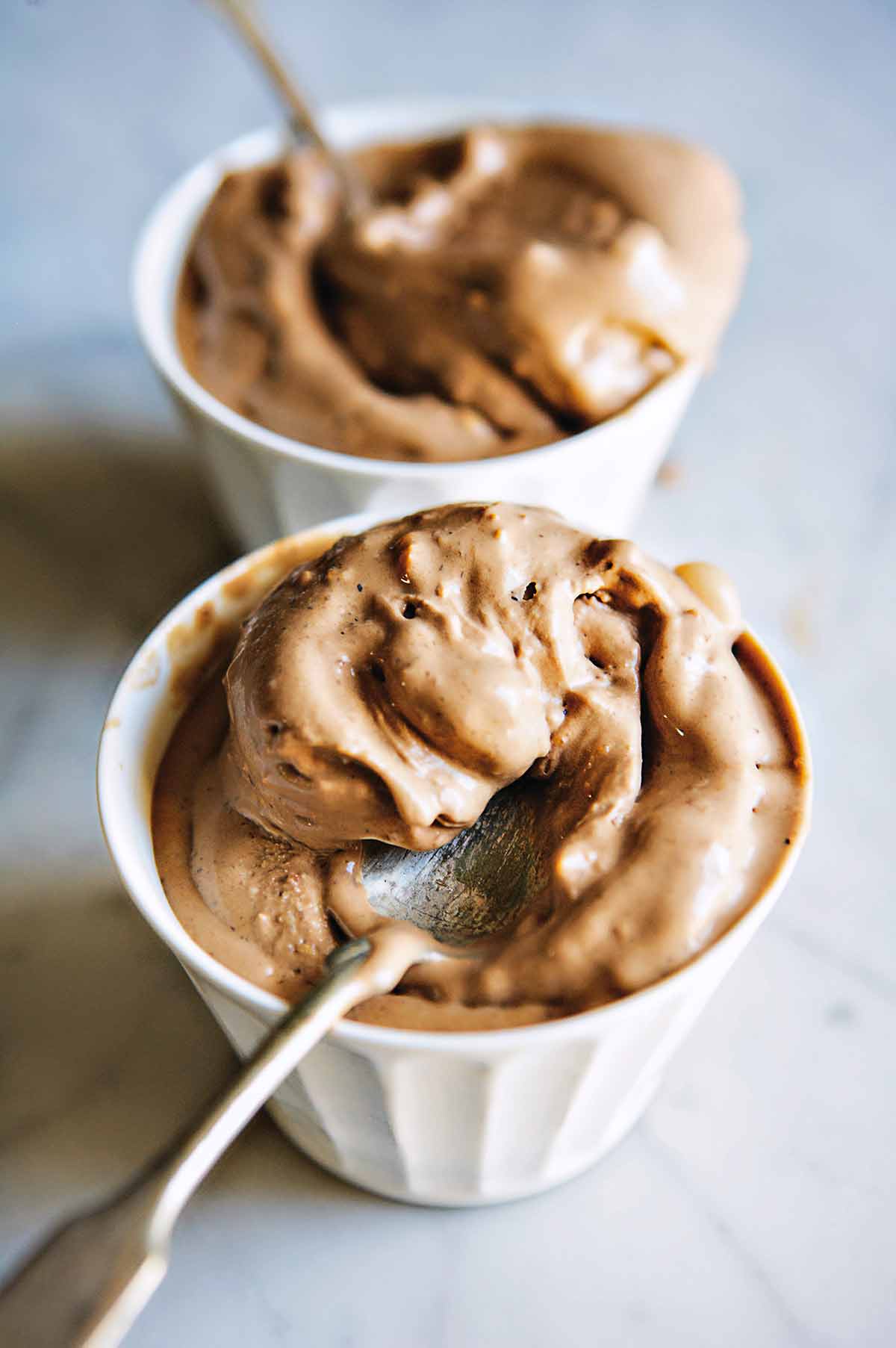 We're food folks, not math people. But perhaps our most favorite equation ever? Chocolate + hazelnuts = gianduia. (That's essentially what Nutella is, folks.) It's a basic yet brilliant mathematical expression in the Piedmont region of Italy. And it perfectly illustrates how the sum is most definitely greater than the parts. Michelangelo couldn't have expressed this creative brilliance any better.–David Leite
Chocolate Hazelnut Gelato FAQs
Where do hazelnuts come from?
Nearly all of the hazelnuts consumed in North America come from either Oregon or Turkey. That said, hazelnut trees are native to a large portion of the United States and north into Canada.
What is the difference between gelato and ice cream?
Gelato and ice cream share common ingredients – cream, milk, and sugar, but there are several differences to note. Gelato contains more milk and less cream and tends to be more rich and dense than American ice cream. Ice cream is generally served between 0 and 10 degrees Fahrenheit, whereas gelato is served between 7 and 15 degrees Fahrenheit. This means that gelato won't result in brain freeze as commonly as ice cream – but it also means that gelato will melt a lot faster.
Chocolate Hazelnut Gelato
This chocolate hazelnut gelato, known as gianduia in Italian, is chocolate ice cream and hazelnuts. It's a classic Italian gelato and tastes like Nutella.
Melissa Hamilton and Christopher Hirsheimer
Heat the oven to 350°F (176°C).

Scatter the hazelnuts on a baking sheet and toast until deep golden brown, 10 to 15 minutes. Tip the hazelnuts onto a plate to cool.

Measure 1 cup hazelnuts, coarsely chop them, and set aside. Finely grind the remaining 2 cups hazelnuts in a food processor. Pour the milk and cream into a saucepan and bring to a simmer over medium heat. Remove the pan from the heat, stir in the finely ground hazelnuts, and let steep for 1 hour.

Strain the nut mixture through a fine-mesh sieve into another saucepan, pressing on the solids before discarding them. Add 1/2 cup sugar and bring to a simmer over medium heat, stirring until the sugar dissolves.



Place the yolks, salt, and remaining 1/4 cup sugar in a medium bowl and whisk until thick and pale yellow. Whisk in the cocoa. Gradually ladle about 1 cup hot milk mixture into the yolk mixture, whisking constantly. Stir the warm yolk mixture into the hot milk in the saucepan. Reduce the heat to low and cook, stirring constantly, until the custard is thick enough to coat the back of the spoon and registers between 175°F (79°C) and 180°F (82°C) on an instant-read thermometer, 3 to 5 minutes.

Strain the custard into a bowl. Add the liqueur and vanilla and set aside to cool, stirring frequently, until room temperature. Cover and refrigerate until completely chilled, about 4 hours. (This will keep in the refrigerator for up to 2 days.)

Churn the custard in an ice cream maker, following the manufacturer's directions. Just before the gelato has finished churning, add the reserved chopped hazelnuts, letting the paddle stir them in. Transfer the gelato to a container with a lid, cover, and freeze for a couple of hours or until it is just firm. Scoop at will.
Serving: 0.5cupCalories: 582kcal (29%)Carbohydrates: 33g (11%)Protein: 12g (24%)Fat: 47g (72%)Saturated Fat: 13g (81%)Polyunsaturated Fat: 5gMonounsaturated Fat: 27gCholesterol: 196mg (65%)Sodium: 56mg (2%)Potassium: 497mg (14%)Fiber: 6g (25%)Sugar: 25g (28%)Vitamin A: 851IU (17%)Vitamin C: 3mg (4%)Calcium: 175mg (18%)Iron: 3mg (17%)
Originally published August 30, 2013
Recipe © 2012 Melissa Hamilton and Christopher Hirsheimer. Photo © 2012 Christopher Hirsheimer. All rights reserved. All materials used with permission.
If you make this recipe, snap a photo and hashtag it #LeitesCulinaria. We'd love to see your creations on Instagram, Facebook, and Twitter.