There's something so special about no-bake dairy-free desserts! Not having to turn on the oven to bake them is one thing that makes them so amazing. They're usually easy desserts and fairly straightforward to make, making them a popular dessert choice. Here we're rounding up 30 dairy-free no-bake desserts for you to choose from! From dessert bars, to cheesecake, pudding, fruit dips, nice cream, and everything in between, you are bound to find a new dairy-free dessert recipe or two that you'll want to give a try.
Are all of these dairy-free desserts also vegan?
While the majority of these no-bake treats are vegan, there are a handful of no bake desserts that use honey.
So they're not all vegan, but all will be safe for those who follow a dairy-free diet!
No dairy products are used in any of these no bake desserts, but you'll learn about plenty of new substitutes and vegan swaps you can make for any of these easy no-bake desserts!
Always check all of the ingredients in any recipe to ensure that it meets your dietary needs.
Why are no-bake desserts the best?
no turning on the oven and heating up the house
super simple
usually great to make ahead of time, leaving more time for other tasks
normally they're easy to scale, double, or triple to feed more people
generally pretty quick to make and usually uses healthy ingredients
all of these are desserts are dairy free
almost all of the recipes are vegan (or vegetarian)
You'll find many recipes that are great for other dietary requests, such as gluten free, nut free, egg free, oil free, etc.
Get ready for this mega list of 30 incredibly delicious dairy-free desserts!! So, let's get to it.
Vegan Vanilla Pudding
Here's a super simple 4 ingredient vanilla vegan pudding delicious dessert. Top it with some fresh berries for a fruity dessert!
Check out this recipe
Raspberry Lemon Cheesecake Bars by Wallflower Kitchen
Cheesecake bars are such a decadent dessert and these bars using fresh raspberries, lemon juice, and cashews, coconut cream, and agave are just that!
Check out this recipe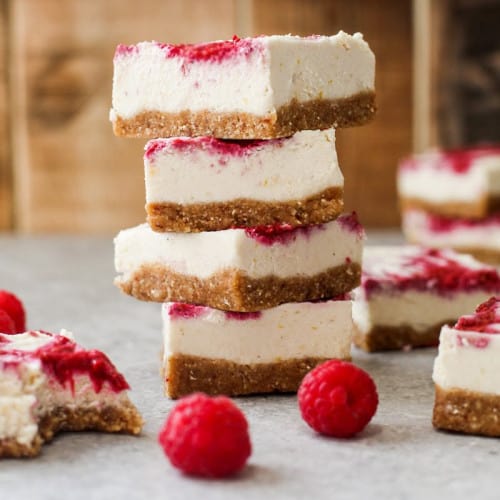 Vegan Sweet Potato Pudding by Delightful Adventures
This 7 ingredient easy dessert is a tasty, creamy sweet potato flavored pudding. Just what you need on a blustering fall afternoon!
Check out this recipe
Deliciously Creamy Vegan Mango Sticky Rice by Vegan Punks
This is a decadent Thai dessert recipe that is creamy from the coconut milk, sweet from the mango, and super easy to make.
Check out this recipe
Easy Fluffy French Vegan Chocolate Mousse with Aquafaba by Go Healthy with Bea
This easy dairy free chocolate mousse uses aquafaba and dark chocolate chips. It's the perfect dessert for special occasions for a chocolate lover.
Check out this recipe
Purple, Grape, and Rosemary Sorbet by Wallflower Kitchen
Grab the ice cream maker and make this perfect summer dessert sorbet that's ready in under a half hour.
Check out this recipe
Spiced Poached Pears by Through the Fibro Fog
Enjoy these poached pears without wine, instead this recipe uses spiced apple juice! They're a sweet treat that's full of flavor.
Check out this recipe
Chocolate Covered Pineapple by A Sweet Alternative
At first glance, these chocolate covered pineapple rings look like decadent donuts! These sweet treats are super simple and oh so yummy.
Check out this recipe
No Bake Vegan Key Lime Pie by Strength and Sunshine
Slightly sweet, tangy and creamy, this vegan and gluten-free dessert pie has a graham cracker crust, and the perfect creamy filling ingredients.
Check out this recipe
Vegan Chocolate Cheesecake by A Virtual Vegan
This creamy, velvety smooth chocolate cheesecake has a decadent cookie crust and a rich vegan cream cheese filling. Everyone will think this is a traditional cheesecake.
Check out this recipe
Mini Strawberry Tarts by Love Food Nourish
These strawberry tarts are perfect for when you have a sweet tooth. The strawberry and cream is the perfect combination.
Check out this recipe
Chocolate Fudge Bars by Running on Real Food
This amazing recipe is made with almond butter, maple syrup, coconut oil, and a few other simple ingredients to make a brownie like crust with a chocolate ganache topping that is truly a dream come true for the chocolate obsessed.
Check out this recipe
Dairy Free S'mores Cups by Fit As A Mama Bear
These s'mores peanut butter cups are the perfect indulgent treat. Imagine enjoying one of these with friends and family around a fall campfire.
Check out this recipe
Fresh Cantaloupe Berry Nice Cream by Melissa Traub Plant-Based Nutrition
This vegan homemade ice cream skips the bananas and uses canatloupe and pineapples to create the best vegan, delicious dairy-free recipe. Talk about the perfect summer treat.
Check out this recipe
Cookies and Cream Nice Cream by Keep Calm and Eat Ice Cream
Kids and adults go crazy for this tasty cookies and cream nice cream – vegan ice cream with your favorite chocolate and cream cookies.
Check out this recipe
Creamy Vegan Fruit Dip by Chelsea Peachtree
Vegan cream cheese, vanilla extract, coconut milk, and a few other ingredients meld together to create a rich and creamy fruit dip that's perfect for dipping strawberries and your other favorite fruits.
Check out this recipe
Persimmon Chocolate Vegan Pudding by Plant Based Folk
Persimmon pulp, cacao powder, and a splash of vanilla make up this delicious, smooth pudding recipe. Super easy and ready in just over an hour.
Check out this recipe
3 Ingredient Chocolate Coconut Cream Dessert by Bucket List Tummy
Just 3 ingredients and 35 minutes are all you need to make this creamy chocolate pudding dessert.
Check out this recipe
Salted Caramel Vegan Rice Cripsy Treats by The Throbbing Eggplant
These tasty treats are salty, sweet, chewy, and a little sticky. They're even better than the traditional Rice Krispie treats. Trust me, all you need is just one bite to fall in love.
Check out this recipe
No Bake Mango Cheesecake by Wholefood Soulfood Kitchen
Ditch the gelatin, this no bake cheesecake has an almond and coconut crust with an ultra creamy mango cheesecake layer on top that's lined with a fresh mango jelly topping.
Check out this recipe
Vegan Strawberry Cheesecake by Rainbow Nourishments
This is one of the most beautiful dairyfree dessert recipes. This gorgeous pink strawberry creamy cheesecake with fresh strawberries on top is even better than the traditional versions!
Check out this recipe
Chocolate Nice Cream
Just 3 all-natural ingredients are all you need to make this vegan-friendly ice cream. Rich, simple, and satisfying.
Check out this recipe
Bliss Balls by No Sweat Vegan
These dessert balls look like energy bites. They're inspired by 3 Girl Scout Cookies: Caramel DeLites, Lemonades, and Thin Mints.
Check out this recipe
Chocolate Fudge by Happy Kitchen
No condensed milk or sugar needed to make this easy healthy chocolate fudge recipe. It's guilt-free and still satisfying, you can't go wrong.
Check out this recipe
Strawberry Popsicles by Homemade In The Kitchen
Make a small batch of these homemade, healthy strawberry popsicles with a pop of gorgeous color. These sweet things are dairy-free, egg-free, gluten-free, and vegan!
Check out this recipe
No Bake Cookie Dough Bars by Rainbow Plant Life
These classic cookie dough bars are the epitome of comfort food type desserts. They're one of the most common favorite flavors, but fear not! These dessert bars are actually healthy, and very allergy-friendly being gluten-free, vegan, soy-free, nut-free, and even oil-free! Feel no guilt when you make a batch of these healthy mouthwatering treats.
Check out this recipe
No Bake Black Bean Brownies by iFoodReal
These dense, rich, and chocolaty dairy-free brownies are made with black beans, but you'd never know because you can't taste them! These healthier treats are a family favorite dessert that you must try!
Check out this recipe
Healthy Rice Krispie Treats with Peanut Butter by Haute and Healthy Living
Decadent Rice Krispie treats turned healthy, including a layer of peanut butter and dark chocolate. These treat bars are packed with fiber and protein and are a tastier, healthier version than the store-bought originals.
Check out this recipe
Peanut Banana Ice Cream by Our Plant-Based World
Make some quick and easy homemade ice cream in 10 minutes with a fantastic peanut butter packed nice cream recipe!
Check out this recipe
Creamy Dark Chocolate Hummus by My Plantiful Cooking
This is a dessert hummus that's luscious and sweet. It tastes like you're dipping into a bowl of homemade brownie batter!
Check out this recipe
Now that we've run through these 30 amazing no bake dairy free desserts, have you found a new favorite or two that you want to try?
I mean, really with thirty different no bake recipes, you now have a whole month worth of dairy-free dessert ideas to try!
Grab all of your vegan, no bake dessert ingredients, simple recipe instructions, and let's get down to business making some new and delicious desserts!
What new sweet treats are you going to try first?
If you want a few desserts and you don't mind spending a few extra minutes baking, try our decadent Vanilla Dairy Free Cupcakes, our rich and tasty Dairy Free Chocolate Cupcakes, or our moist and chocolatey Vegan Banana Brownies.
©Watch Learn Eat. All content on this page is copyright protected and is not to be used or republished without prior permission. Images shown in this post are used with permission from the owner(s).