You'll love these vegan mushroom recipes! Mushrooms are delicious and nutritious and are the spotlight of many plant-based meals! They are flavorful and add a meaty texture to many dishes like stroganoff, stew, vegan wellington, and soups! 
Mushrooms are a low-calorie food full of fiber, protein, and antioxidants. There are wide varieties of mushrooms that you can find year-round and some wild mushrooms like chanterelles that you will see at the farmers' markets and grocery stores in the late summer and fall. 
Top Mushrooms Available All Year
There are a mixture of mushrooms used in the recipes below. These mushrooms are the most common mushrooms available year-round.
White Button Mushrooms: These are common mushrooms you'll find at most grocery stores. They have a very mild flavor and pair well with most dishes. 
Crimini Mushroom aka Baby Bellas: This mushroom is a young portobello and is slightly more favorable than white button mushrooms.
Portobello Mushrooms: These dense and flavorful mushrooms have a rich flavor and are perfect in Italian dishes. This mushroom can grow very large and can be used as a bun substitute. 
Shiitake Mushrooms: These Japanese mushrooms are identified by their umbrella-shaped brown caps. Fresh shiitakes have a light earthy flavor and aroma. They taste best sautéed with veggies or in stir-frys.
Mushrooms are one of my favorite vegetables and taste incredible in so many dishes. Below you'll find 22 of the best vegan mushroom recipes from around the web! These dishes are so tasty and are incredible healthy recipes to add to your weekly menu!
22 Vegan Mushroom Recipes
Portobello Mushroom Fajitas by This Healthy Kitchen
Portobello mushroom fajitas with crisp bell peppers and onion are loaded with all your favorite toppings for your next Taco Tuesday! The homemade fajita seasoning delivers a big flavor, and these are guaranteed to please a crowd. Add black beans for added protein.
Check out this recipe
Vegan Cream of Mushroom Soup by My Quiet Kitchen
Velvety smooth and so flavorful, this vegan cream of mushroom soup is one worth savoring! Made with both fresh and dried mushrooms, garlic, and rosemary. 
Check out this recipe
Oyster Mushroom Stir Fry with Broccoli by Vegan Punks
King Oyster mushrooms in a stir fry that takes just 20 minutes to make and is so delicious. With a rich, peanutty, umami stir fry sauce, it will be a hit.
Check out this recipe
Vegan Mushroom Burgundy by The VGN Way
Your family may not be able to get enough of this one-pot rich and creamy mushroom burgundy. Made with tender baby Portabella mushrooms, carrots, and shallots and sautéed in a rich red wine sauce and served over creamy mashed potatoes. 
Check out this recipe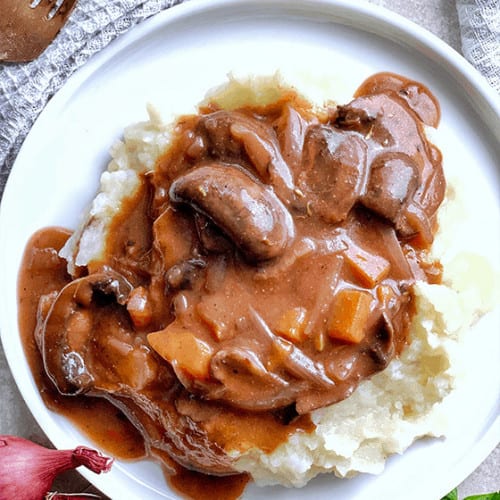 Vegan Mushroom Pasta by Simple Sumptuous Cooking
This creamy vegan mushroom and broccoli pasta is a delicious and easy dinner that everyone in your family will love.
Check out this recipe
Mushroom Burgers by Spabettie
These mushroom burgers are super flavorful and work with all kinds of burger toppings. Make them part of your weekly meal prep for easy lunches and dinners.
Check out this recipe
Vegan Mushroom Soup by Rescue Dog Kitchen
This vegan mushroom soup is easy to make, and it's ready in 25 minutes! A combination of hearty mushrooms, white wine, full-fat coconut milk, vegan butter, and vegetable broth are used to make this creamy and delicious soup! This soup makes for a great main dish or a healthy side dish served along with a vegan healthy dinner.
Check out this recipe
Instant Pot Mushroom Stew by Delightful Adventures
This vegan mushroom stew is an easy meal you can make on the stovetop or in your Instant Pot. It's a delicious, warm, and hearty meal filled with mushrooms and veggies and comes together with simple ingredients.
Check out this recipe
Marinated Mushroom with Veggie Wild Rice by Veggie Fun Kitchen
Savory mushrooms marinated in an oil-free delicious sauce with balsamic vinegar served over a bed of vegetables and wild rice. This savory, hearty dish is sure to please as a side dish or main course for your plant-based meal.
Check out this recipe
Vegan Stuffed Mushrooms by My Quiet Kitchen
These vegan stuffed mushrooms are perfect when you need a quick and easy appetizer. They're tender, cheesy, simple, and gluten-free, too!
Check out this recipe
Vegan Mushroom Stew by Spabettie
This mushroom stew has all of the classic comfort food flavors you know and love. A favorite recipe that will keep you warm all winter long and is loved by veggie lovers and meat eater folks! 
Check out this recipe
Mushroomo Pho Soup by The VGN Way
This umami flavor packed and easy-to-make mushroom pho soup recipe is made with hearty portobello and flavor-packed shiitake mushrooms; for the most delicious rich vegan broth-based soup you've ever tried, seriously
Check out this recipe
Mushroom Zucchini Pasta by This Healthy Kitchen
Tender spaghetti with summer squash and mushrooms in a light, creamy sauce that's ready in just 30 minutes! This easy mushroom zucchini pasta is filled with flavor, delicious, fresh produce, and just a hint of spice.
Check out this recipe
Mushroom Risotto by Veggies Don't Bite
Rich and creamy vegan mushroom risotto the whole family will love! It's so easy to make with my quick risotto tips. 
Check out this recipe
Mushroom Biryani by Vegan Punks
A curry house classic that takes just 40 minutes to make. Packed with flavor, yet without any fuss. Totally delicious, especially when served with a yummy biryani gravy.
Check out this recipe
Vegan Mushroom Stroganoff by Strength and Sunshine
Skip the beef stroganoff and try this vegan mushroom stroganoff instead! Creamy and hearty, this satisfying meatless dinner is gluten-free, dairy-free, allergy-free, and made in 1 pot with just 8 ingredients! Serve this healthy recipe over your favorite gluten-free pasta, rice, or potatoes for some quick and simple comfort food your family will love! This is one of my favorite vegan mushroom stroganoff recipes!
Check out this recipe
Stuffed Portobello Mushrooms by Our Plant Based World
Stuffed mushrooms are always a hit at parties, and these stuffed portobello mushrooms are no exception! Packed with flavorful sun-dried tomatoes, celery, and vegan cheesy goodness, these mushrooms are sure to be a hit with your guests.
Check out this recipe
Mushroom Tom Yum Soup by Green Bowl 2 Soul
Mushroom tom yum soup is a light Thai soup full of refreshing flavors. It's very easy to make and gets ready quickly. This vegan Thai mushroom soup uses cremini mushrooms and a variety of fresh herbs to create this tasty dish. 
Check out this recipe
Mushroom Crostini by Happy Kitchen
This festive vegan mushroom crostini recipe is an easy and impressive appetizer perfect for holidays. A crunchy baguette with grilled vegan mozzarella topped with sweet caramelized onions and mushrooms with a hint of balsamic and Dijon mustard will surely be a show stopper.
Check out this recipe
Vegan Wellington by Plant.Well
Deliciously crisp puff pastry filled with mushrooms, onion, spinach, garlic, rice, and fresh thyme. The mushrooms in this recipe have a meaty texture, and this dish is perfect for mushroom lovers. This is the best vegan mushroom wellington recipe ever and is a beautiful plant-based main dish!
Check out this recipe
Vegan Mushroom Gravy by Homemade in the Kitchen
Vegan Mushroom Gravy is easy from scratch homemade gravy recipe made with mushrooms, onion, and garlic. This gravy is the perfect addition to your Thanksgiving, Christmas, and Easter meals.
Check out this recipe
Mushroom and Lentil Pie by This Healthy Kitchen
This wholesome mushroom and lentil pie is a vegan and gluten-free twist on shepherd's pie! Featuring a bed of lentils, mushrooms, and a mirepoix of veggies in a rich and full-bodied gravy. Then topped with creamy mashed potatoes!
Check out this recipe
I hope you enjoy these vegan mushroom recipes. Many of them make a great weeknight dinner or make the perfect side dish to accompany your meals. I like to add sautéed mushrooms to my Avocado Toast, Roasted Spaghetti Squash, my favorite pasta dishes!
©Watch Learn Eat. All content on this page is copyright protected and is not to be used or republished without prior permission. Images shown in this post are used with permission from the owner(s).